Do your kids know how to decode multisyllabic words? Reading big words is important when kids are transitioning to chapter books. In today's post, I'm going to talk about ways to assess them.
Listen to Them Read
Listening to kids read is the simplest way to assess if kids know how to decode multisyllabic words.
Carve out time for about a week so that you are able to assess a few kids each day during independent reading time.
As the other kids are reading independently, listen to a student read aloud quietly from their independent reading book. Are they able to read multisyllabic words accurately? If they get to a big word that's difficult, do they stop and decode it accurately?
As they read, jot down notes for that student so you know which kids will need more practice and which ones are doing well.
Use a Multisyllabic Word List
You can assess each student independently in the same way you would when you listen to them read from their IDR book.
Except for this time, they'll be reading a list of multisyllabic words. As the rest of the class reads independently, have individual reading conferences with students.
Give them a list of multisyllabic words to read and mark down the ones they struggle with. You'll use this data to determine if students need more practice or are multisyllabic word master decoders!
If you need word lists for 2, 3, 4, and 5 syllable words, they're included in my Spot and Dot resource. It includes games and activities to practice those words.
Use Puzzles
Puzzles are a great way to practice multisyllabic words. But they can be used to assess as well.
Create puzzles with multisyllabic words and break them apart by syllables. To assess if kids can decode multisyllabic words, have them put the words back together.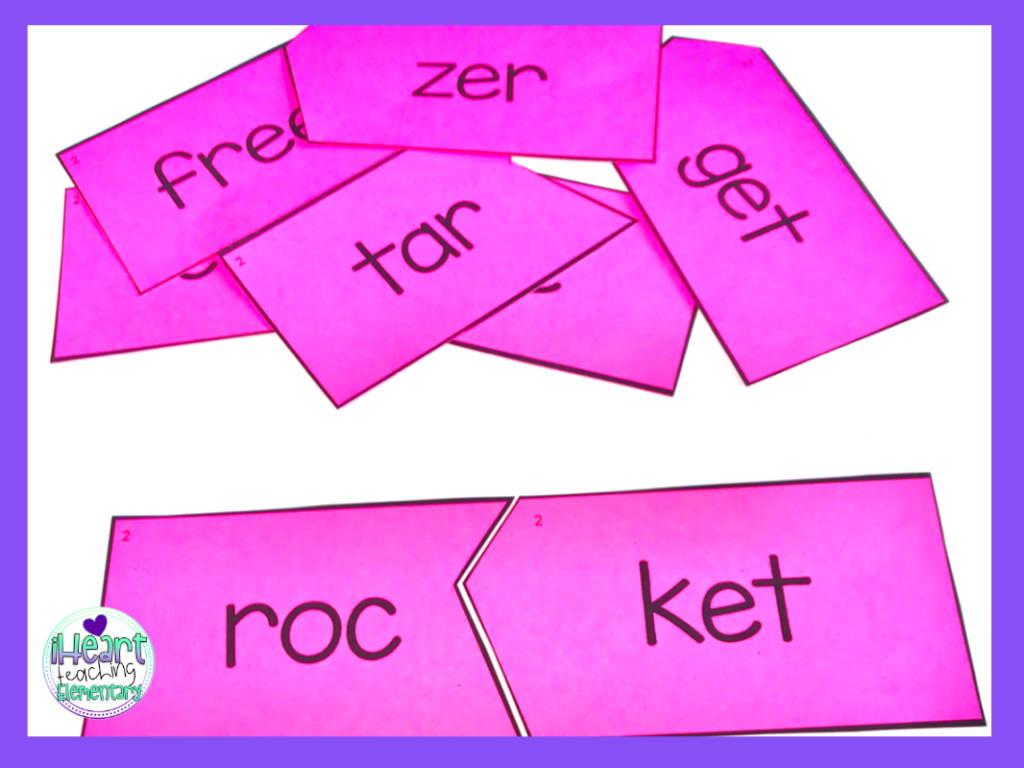 Kids that can decode multisyllabic words should be able to not only break apart a word but know the syllables and how they go back together.
Using puzzles as an assessment tool is also a time-saver because you can assess more than one student at a time.
To do this in a small group, have kids put up barriers like a folder between themselves and the other kids. Give them each a puzzle set and have them put 3 words together. As they do this, jot down notes for each student
The data from this activity will help you determine who needs additional practice. You can even use the same puzzles for practice on a different day.
So now what do I do with the kids that struggled?
When you analyze the data from these individual conferences and small group meetings, you can plan additional small groups for those students that need additional practice.
Plan activities where students do hands-on work with multisyllabic words. Sometimes they need hands-on practice with a game like memory where they match up word parts.
You can check out more about how to help students with decoding multisyllabic words in THIS blog post and THIS blog post.
💜 Marlene
🛒 Shop This Post
Click on the Pictures to Learn More: